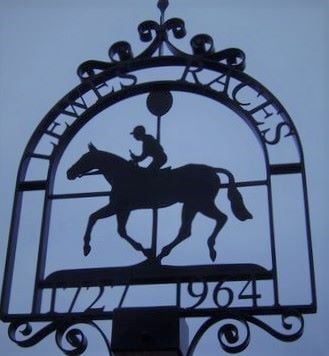 1727
Earl of Halifax's Sampson walked over in the 100 guinea King's Plate.
1745
Regulus won the hundred guinea King's Plate unbeaten in nine races.
1762
The Duke of Newcastle was at the races this year with a great number of Nobility and Gentry who made a brilliant appearance at the Race Ball each night.
1769
Eclipse won the 100 guinea Kings Plate unbeaten in eighteen races.
1772
The First race stand was built.
1773
A man in the crowd was nearly trampled to death by a horse and carriage, when the horse took fright the Gentle man and Lady was both thrown out.
1774
On Saturday in the last race the Duke of Richmond's Antiphas fell and threw his rider who dislocated his neck, but having immediate assistance he was soon out of danger. Also today was the first running of the Lewes Plate and Brighthelmstone Plate and Sir John Shelley's colt won the 425 guineas in a sweepstakes.
1775
Mr W Thomas a gardener from Lewes was rode over by a man riding furiously a little below the railing of the course.
1777
The Lewes Trained Master Slender, ridden by W Adams won the Duke Of Richmond's Plate.
1778
Captain Trevor lost his £60.00 gold watch to the pick pockets, also Lieutenant Bartlet lost a purse of 5 guineas.
1782
This year was the first running of the ladies purse and was won by Lewes trained Diadem, also another Lewes horse Sussex won the Duke of Richmond Stakes.
1783
Diomed who won the first ever Derby three years ago, broke down in the kings plate. This year was the first year of the running of the county plate and was won by St John Shelley's Pantalon.
1785
The Prince Of Wales had his first winner on the course winning a two hundred guinea match with Ascot.
1786
The Prince of Wales while on the course very politely assisted a Lady of rank (but whom we did not know) in ajusting her headdress which the violence of the wind had rudely disordered.
1789
The new Theatre that stands at the top of St John's Street opened this Year.
1793
This years Derby winner Waxy who is trained by Robert Robson at Lewes won a twelve furlong sweepstake.
1794
Lewes trained Waxy won the Duke of Richmond's Stakes and walked over in the Ladies Plate, this year was the first running of the Produce Stakes.